We are pleased to transform our space one week out of every month into a useful area that can be used by any and all members of our community. We are not furniture refinish professionals, but opinionated artists who will be on hand to offer supplies, suggestions and guidance as best we can.
HOW IT WORKS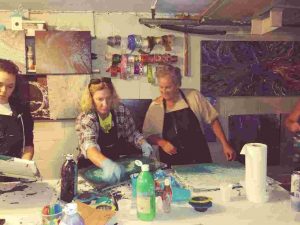 You provide the furniture or piece to be refinished, and stick around to refinish it yourself. We provide the primer, paint and stains, acrylic water marbling supplies and the varnish, as well as all the additional peripheral supplies that you might need (trays, brushes, aprons, cleaning supplies, etc.) Mix and match paints and stain colors as you wish! We have beautiful options on hand for you to choose from, including rich wood stains, colorful paints, acrylic pouring options and even rich colored gels and stains in an array of brilliant colors.
We provide the time and space for drying, as well as protective coverings, painters tape, paint brushes, rags for staining, trays and cleanup supplies. We'll also have furniture glue, wood filler, small hand tools and drills on site. A dab of glue here and there is available at no additional charge. If you need more than a dab, we'll ask for a small contribution.
Money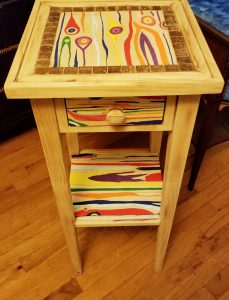 You will be doing the work, we will be providing the supplies and space (and creative input upon request). Costs are based on the square inch of your piece, with a $25 minimum.
You will be charged $25 to register for the class, and pay the difference once you bring your piece in and have it measured. All parts of your furniture that will be refinished will be included in the total square inches, including drawers, cubbies and furniture legs. ONLY the parts that you will be refinishing will be measured. For instance, if you are working on a small dresser and wish to refinish only the exterior drawer panels on three sides, then only the exterior drawer panels on three sides will be measured, not the inside or outer back panels.
Pricing Equation
Total square inches x .0625
Pricing Equation Example for a Coffee Table
Coffee table top = 45″ x 25″ = 1125 square inches
Coffee table legs = 19″ (high) x 3″ wide (per side) x 4 (sides) = 228″ per leg x 4 legs = 912″
1125 (table top) + 912 (legs) = 2037″ x .0625 = $127.31

Some General Estimates
While it's impossible to give you a precise number without our team measuring your piece, a few examples should help you get a sense of what it will cost to refinish your piece.
A medium sized wood wall clock will cost approximately $45 to refinish.
A small night stand with two small drawers will cost approximately $65 to refinish.
An end table with no drawers will cost approximately $65 to refinish.
A coffee table will cost approximately $125 to refinish.
The Little Things
We will offer additional items that you may need such as screws, nails, hinges, knobs and pulls for nominal fees. Prices will be marked accordingly.
Sanding
Due to air quality restrictions in our building, we cannot permit sanding at our location. If necessary, please sand your piece prior to bringing it in for refinishing. Please keep in mind that some pieces may need primed instead of sanding. If this is the case, bring it in.  If you're not sure, bring it in. We'll be happy to give you our opinion. We have primer on hand and it is included in the cost.
Time
Your payment is for refinishing a specific piece (or pieces) of furniture. We offer this service one week out of every month because we recognize that some parts of the refinishing process require adequate drying time. You can bring your piece in and complete it during the week, but you must take it home no later than Sunday! There is no extra charge if you need to come in several days throughout the week to work on your piece. However, there IS an extra storage charge for not picking up your piece on time, TBD.
Cleanup
All participants are expected to clean their work area as well as the tools and supplies used.
Artistic Skills
Artistic skills not required. Our team (and possibly other participants) will be available for guidance and recommendations. Please note, we are not furniture refinishing professionals, and we are not teaching a class on furniture refinishing techniques. We are offering a service where you can do this in a community setting with others.
Art apron and all other supplies included. Wear your favorite clothing to paint in!
_________________________
Chartiers Creek Creative
Because doing art feels good.
_________________________
Make it a party! Please feel free to bring your favorite painting picnic snacks and beverages. Adults age 21 and older may bring alcohol to drink responsibly during this event. We do not have a refrigerator or provide any plates, utensils, etc.
Donations Accepted!
Thank you for considering us!
We gladly accept donations of cabinet/drawer knobs & pulls, nails, tacks, screws, hinges and other hardware.  We are grateful to take off your hands any tool kits, furniture staple guns and staples, hammers, screw drivers and drills, drill bits, wrenches and pliers. We also accept paint, primer and varnish that are in their original containers and at least 1/4 full. Please contact us to arrange for drop-off.
Please note that we cannot accept highly flammable liquids such as paint thinner, turpentine, linseed oil, propane or butane.
Some small furniture donations are accepted, and the sales of the finished pieces will be used to help fund various community projects. Please send us a photo of your piece prior to bringing it in to ensure that it is appropriate for our program.
Sponsors
If you are a local company or offer products that can be used in our Small Furniture Refinishing Classes, please contact us. We'd love to discuss how we can best work together.