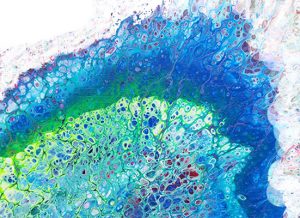 Your choice: 11 x 14″ primed canvas or 4 ceramic tiles (choose at class).
There are many types of paint pouring techniques to explore. In this class, we will focus on the flip cup technique.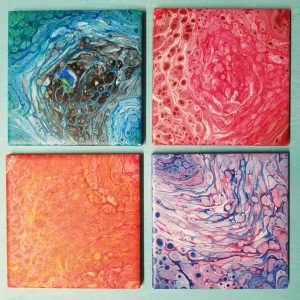 A flip cup pour is one of the most basic pours, yet it never ceases to be a wonder. Learn how to create a stunning masterpiece on canvas or ceramic tiles (your choice) with beautiful colors, lines and mesmerizing cells. Mix and match your own acrylic paint colors and choose from several flip cup techniques to put your personal touch on it. No two paintings will look alike. Your painting will be fun to look at and talk about for years to come!
Artistic skills not required. An art apron, gloves and all other supplies are included to create a beautiful work of art. As always, wear your favorite clothing to paint in! Until further notice, all participants must wear masks for the duration of the class for the protection of each other. Disposable masks will be available on site for $5 each.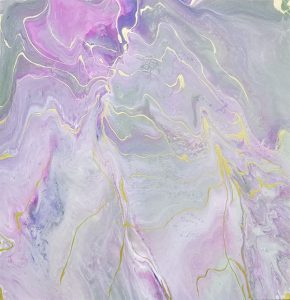 No paint brushes will be used or harmed during this process. No straight lines will be drawn. 🙂
---
Because doing art feels good.
---
3 Options
Option #1: This class only – sign up below!
General Admission: $29.99 / Members: $23.99
---
Option #2: 4 Days of Awesome Art $114.99 (save $10!) / Members pay only $91.99 (save $23!)
Sign up for this class as 1 of 4 in a week-long class of 4 classes, with different art project each day this week
July 13
Monday
9 am – Noon
July 14
Tuesday
9 am – Noon
July 15
Wednesday
9 am – Noon
July 16
Thursday
9 am – Noon
Paint Pouring
Flip Cup on
Canvas or tiles
Cost: $29.99
Resin Art
5 x 7″ encrusted gem
(with crystals)
Cost: $34.99
Water Marbling
Marbling paper
/Scrap Packs
Cost: $29.99
Alcohol Ink
Specialized papers
/Scrap Packs
Cost: $29.99
---
Option #3: 5-Week Paint Pouring Monday Workshop $139.99 (save $10!) / Members pay only $111.99 (save $28!)
Sign up for this class as part of a once-weekly 5-week workshop (5 classes total, exploring various paint pouring techniques)
Monday, July 13 – Flip cup ($29.99)

-> * You are here *

Monday, July 20 –  Strainer pour ($29.99)
Monday, July 27 – Ring pour ($29.99)
Monday, August 3 – Acrylic geode with crystals on Canvas ($29.99)
Monday, August 10 – Swipe ($29.99)
---
Chartiers Creek Creative Members save an additional 20%!
Membership rates apply only for those who are active members.
You may not apply your membership savings for non-member seats.
If you do not already have a Chartiers Creek Creative Membership card and would like to get one, simply choose "Membership + Seat". You will receive your seat at the discounted price (20% off!) and you will be able to use your Membership card for future purchases throughout the year!