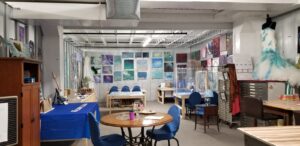 Chartiers Creek Creative is dedicated to uniting the community using art and creative events and activities. While we have provided the community with over 600 Kindness Art Kits during the pandemic, we've come to realize we could use your help during this dark period in our history to keep going.
WAYS YOU CAN HELP
Buy everyone you know a Chartiers Creek Creative gift certificate.
Donate equipment and/or help us set up Zoom to have interactive classes from our studio – contact us !
Donate real dollars to help with the rent / advertising. Zelle: 412-999-0444  / Credit Card / PayPal – Click here
Become an annual member (and save 20% on all classes and art kits)
Spread the word about Chartiers Creek Creative to everyone and anyone.
Buy art from www.leannschmidt.com – art sales from there directly help fund things here during COVID. We have beautiful new housewares such as trays, cookie jars and ornaments.
Book an event at our space
Donate a sandwich frame for outdoor advertising during active classes.
Because doing art feels good.
With gratitude,
Leann Schmidt, Founder