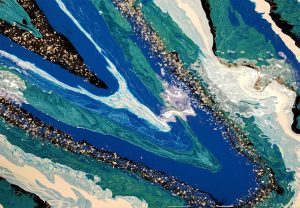 Exclusively for our 21 and older crowd, we are offering the Acrylic Geodes painting class and pairing it with a wine tasting, complete with our own personal Wine Guide, Jan Galbreath! Jan will  provide 5 bottles of wine for the tasting and pairing experience. And while this may sound very fancy, you should still wear your favorite clothes to paint in!
This class invites you to explore nature by replicating a geode slice using real glass and other additives to create texture directly to your paint on your canvas as we enjoy tasting up to 5 different wines. In this class we will walk you through the process of creating a beautifully textured geode painting in the colors and styles of your choice. (All supplies included in price.)
…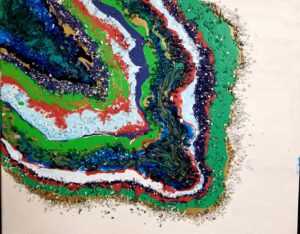 Your painting will be fun to look at and talk about for years to come!
…
Artistic skills not required. Art apron and all other supplies included. Wear your favorite clothing to paint in!
…
No paint brushes will be used or harmed during this process. No straight lines will be drawn.
_________________________
Because doing art feels good.
_________________________
Make it a party! Please feel free to bring your favorite painting picnic snacks and beverages. Adults age 21 and older may bring alcohol to drink responsibly during this event. We do provide plastic cups, corkscrews, bottle openers for you to use during the class.
We do not provide ice, refrigeration, plates, utensils, etc.
Chartiers Creek Creative Members save 20% on this class!
Membership rates apply only for those who are active members.
You may not apply your membership savings for non-member seats.
If you do not already have a Chartiers Creek Creative Membership card and would like to get one, simply choose "Membership + Seat". You will receive your seat at the discounted price and you will be able to use your Membership card for future purchases throughout the year.[/vc_column_text][/vc_column][/vc_row]